TAMA Dyna Sync Double Pedal
sku
HPDS1TW
Optimized Transmission Design
By precisely positioning and aligning the contact point transmission angles between the cam, direct link and footboard, we achieved the perfect overall balance of power-speed-feel.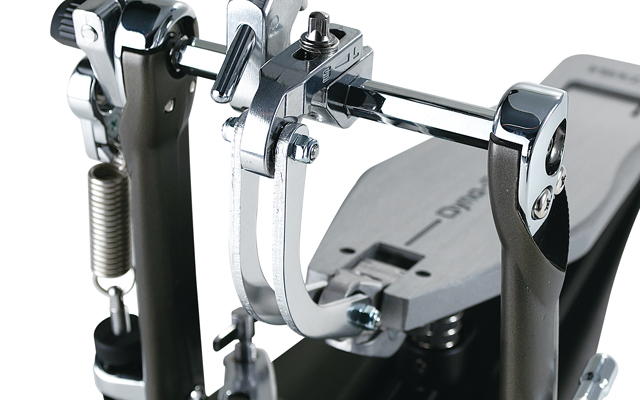 Dual Linkage
To convert rotational motion force from footboard to cam, we developed a sturdy double-link cam connection system that holds the rotation axis bearings equally from both sides. This produces almost perfect energy transfer from the footboard-to-cam and creates phenomenal reaction speed and power.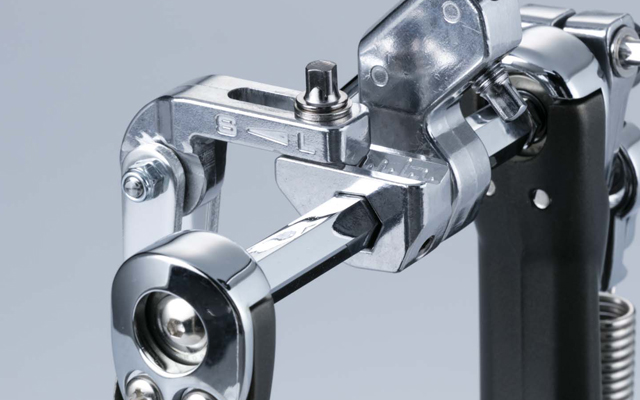 Slidable Cam
The upper cam section slides back and forth in a "non-step" action to adjust the cam-turning radius. A larger turning radius provides for a more linear motion between footboard and beater and results in a high-degree of sensitivity for nuanced performance. The smaller turning radius results in a more dynamic (non-linear) motion. The Slidable Cam promotes a highly personalized and "connected" feel tailored to widely diverse playing styles.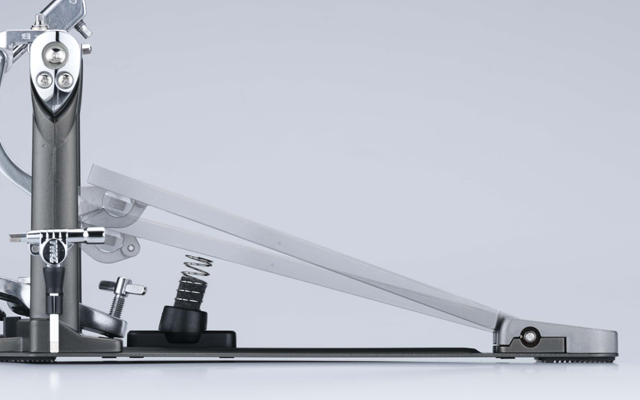 Footboard Angle Adjustment
Drummers have come to recognize and appreciate independent bass drum footboard angle adjustment as an important function to help customize a personal feel. This inspired us to focus on the Dyna-Sync design and create a completely new and unique footboard angle adjustment. The Dyna-Sync footboard angle design integrates into the clam-shaped connection point between linkage and footboard and is fully adjustable to deliver a totally personalized pedal angle adjustment.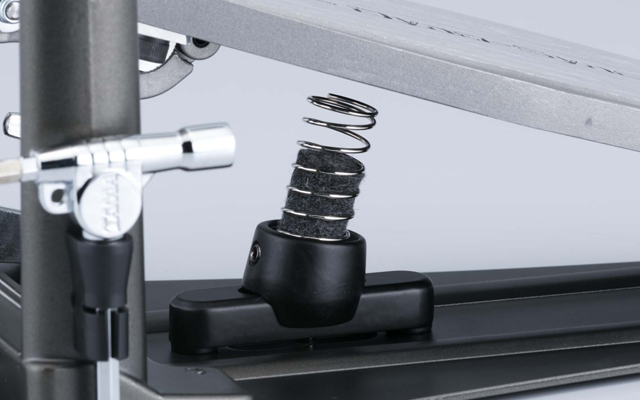 Sync-Coil
The Sync-Coil is a 1.5x heavier gauge steel spring compared to our established Cobra Coil. The Sync-Coil assists the return of the footboard to the original position to provide an extra element of quickness to the pedal and slides on the bass plate so drummers can customize their own level of pedal return assistance.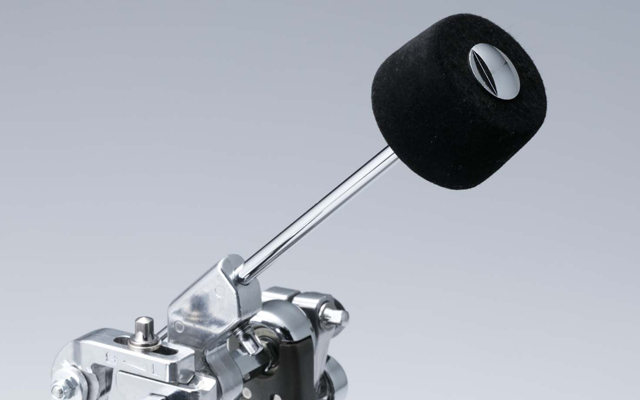 Dyna Beater
Featuring black felt and a slightly tapered shape, this traditional style beater provides impact to the bass drum head surface evenly to maximize clear, dynamic articulation.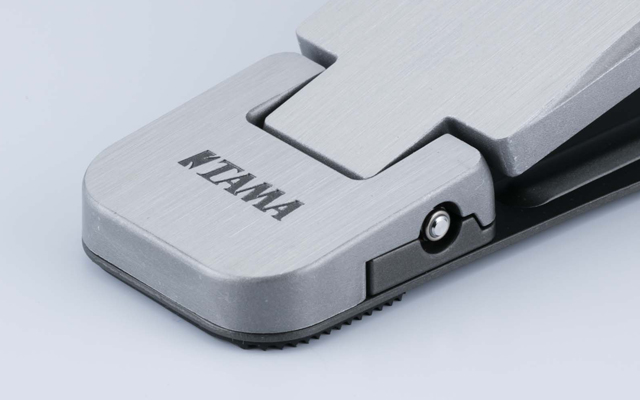 Hinge Guard Block
We've changed the construction of the Bearing Hinge on the footplate from a one-piece assembly to two pieces, which holds the bearing more evenly - minimizing stress, and maximizing smoothness, while adding to the pedal's sense of power.
Swivel Spring Tight (US.PAT.NO.9236038)
The conventional approach to the spring assembly (including previous Iron Cobra Pedals) has been to anchor the bottom of the spring while the top of the spring is being pulled from various angles throughout the pedal's cycle. But a spring being pulled on at an angle represents wasted energy and causes turbulence. The Swivel Spring Tight assembly solves this problem, recapturing that lost energy and optimizing smoothness through the use of a contoured assembly that allows the base to swivel freely with the spring. This enables a straight spring pull during the pedal's entire cycle, resulting in the smoothest, lightest action ever found on a bass drum pedal.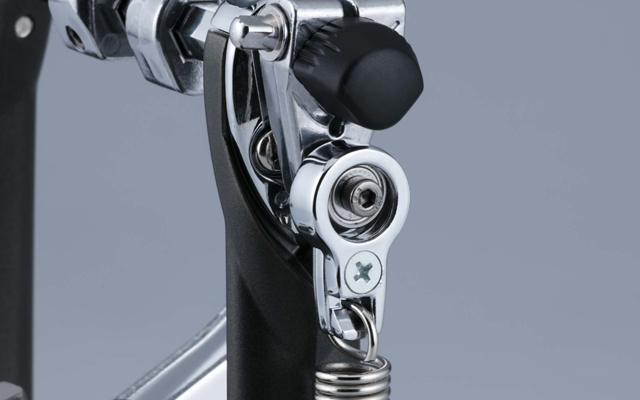 Speedo-Ring
TAMA eliminated another source of friction by replacing the traditional nylon rocker cam with the Speedo-Ring, a rocker cam with a high quality built-in ball bearing rocker. The Quick-Hook not only allows for easy set up and tear down but provides a compact pedal that you can place in the hard case without taking off the beater.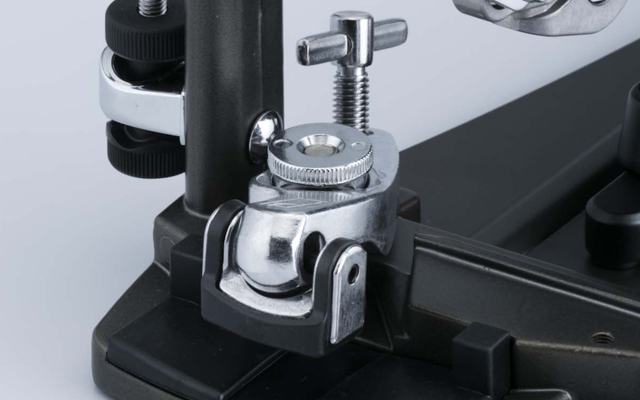 Para-Clamp II Pro
TAMA now introduces Para-Clamp II -an even more clever and useful version of the popular original. The Para-Clamp II is capable of gripping the widest variety of bass drum hoops ever. The improvement is largely due to its newly designed three-dimensional rubber grip. Holding power is increased and the possibility of scratching the hoop is eliminated. Furthermore, set-up and breakdown are easily facilitated, while sitting on a throne because the T-bolt of the Para-Clamp II Pro is on the side of the footboard, rather than under it.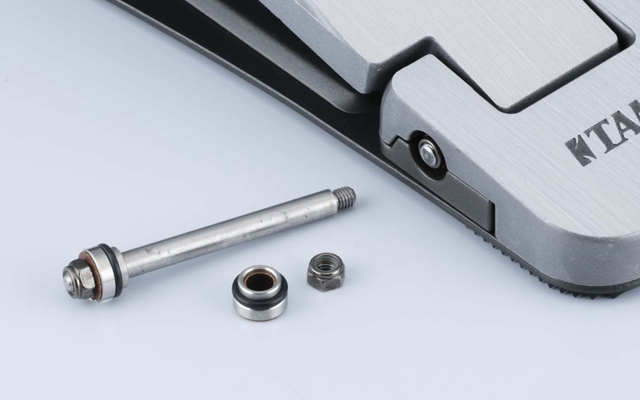 Oiles® Bearing Hinge (US. PAT.NO.6100460)
"Offering even less friction than standard ball bearing, Oiles® bearings also eliminate side-to-side motion and provide superior durability (which is why they're used in the aerospace industry).
(Oiles® bearings is a registered trademark of the Oiles Co.,Ltd.)"
If you live in the Ottawa area you can buy on line and choose the pick up instore option. We will email you to let you know your item is ready for you usually the same day.
Financing is provided by PAYBRITE in Canada. US customers can visit us on Reverb and use Affirm for financing options. We also offer instore layaway plans with zero cost. We are constantly looking for safe and affordable ways to help you finance your purchases at Dave's Drum Shop.
***Financing services are a contract between the purchaser and the financing company, we are not able to resolve issues on your behalf after the financing agreement has been completed***
We offer free shipping in Canada over $199 on most items. You will see a notification that you have qualified for free shipping at the top of the page
We use the most affordable method available as we work with multiple carriers to get the best price.
We can often ship the same day we receive an order although we cannot guarantee this. If you do require rush shipping we can accommodate this but you will need to call us to set up. If you need a shipping option faster than what we might use by default there may be an additional charge.
If there is no shipping cost for an item (usually full drum kits or high value gear requiring special packaging and shipping options) we will have to calculate it and send an invoice with the shipping rate.

If you are in a country that requires a shipping quote please provide your complete shipping address and the item information using the contact us button below. We will get back to you within a few hours during our stores operating hours.
Free Shipping in Canada over $199 purchase!
---
}